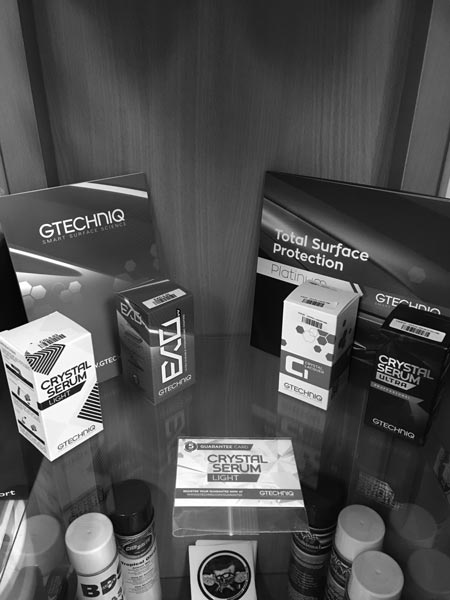 Having been familiar with coatings since the beginning of their place in the market, I was very careful in making the right decision for my customers and myself. I had started out with coatings back in the late 90's when they were a little less than satisfactory. Since then, the products and the industry have taken a huge leap forward thanks to Nano Technology. Today, they are a reliable resource for the protection of your favorite ride. Having done a crazy amount of product testing with these types of products, I have arrived at a wonderful conclusion. GTECHNIQ!!
Gtechniq is "THE" innovator in ceramic coatings. They started in 2001 and are the best choice for me and my customers. Gtechniq smart surface science combines the latest in fields such as nano chemistry and supramolecular chemistry, with rigorous real-world and laboratory testing.
Gtechniq Crystal Serum Ultra is the best paint protection you can get! It's thicker, glossier, and harder structure offers unsurpassed abrasion and chemical protection. It is the high-performing solution for your car and is covered by a 9-year guarantee. Gtechniq Crystal Serum Ultra offers class-leading abrasion resistance and has been formulated to be 100% optically clear. As a result, it delivers a deep and rich high gloss finish, UV protection, durability, and swirl resistance.
Gtechniq Crystal Serum Light offers unbeatable gloss, swirl resistance, and contaminant and dirt repellency when compared to other ceramic coatings. It forms an ultra-durable, high-gloss, slick to the touch, chemically bonding inorganic layer of optically clear ceramic making bonded contaminants such as tree sap, tar and hard water spots easy to remove, and is covered by a 5-year guarantee. Give me a shout and I would love to tell you all about it!
*Rates are $100 per Hour of Service Performed